the opening of the Louvre Abu Dhabi and Pompidou Shanghai is heralding a new age of cultural exchange, with big-name galleries lending their names and expertise to shiny new outposts around the globe
There was a time when "the Guggenheim" meant simply the Frank Lloyd Wright-designed museum on New York's Fifth Avenue, or maybe Peggy Guggenheim's art-filled palazzo in Venice. And going to the Louvre or the Pompidou was what we did when we were in Paris. But times have changed. Since 1997 that Guggenheim on your bucket-list might well be in Bilbao – in the spectacular Frank Gehry building that transformed this Spanish post-industrial port city into a hip mini-break destination. And soon you might be heading to the Guggenheim Abu Dhabi, where it will be a near neighbor of the Louvre Abu Dhabi. And the Pompidou? There were already "Pompidous" in Brussels and Malaga (another Spanish port keen to "do a Bilbao"), and last November another Pompidou opened in Shanghai.
So what's afoot? Of course it was the Guggenheim that pioneered this model, in which a globally recognized cultural institution lends its storied name, and perhaps part of its superb collection, plus know-how, to a "brand extension" in a distant city – housed in a statement building designed by a leading "starchitect" – thereby giving that city instant cultural clout. And Bilbao was a smash hit. But since then several other proposed Guggenheims failed to get beyond the planning stage, a fate which the Guggenheim Abu Dhabi seemed, until recently, destined to share. But while the other projects stalled because local stakeholders baulked at the price of this transaction, the deep pockets and cultural ambitions of Abu Dhabi's rulers seem to have won through. Not to mention the sheer momentum of the successful launch of the new Louvre, opened with great fanfare in 2017 by President Macron of France and the Crown Prince of Abu Dhabi. For deployed in the Middle East or in China, this "museum diplomacy" isn't just about museums, cities and nations striking deals. It is also about genuine cultural exchange and, in the case of the Louvre and the Pompidou, an expression of France's "soft power" – in a reciprocity made all the more precious for the fact that these projects bridge some profound political and cultural differences.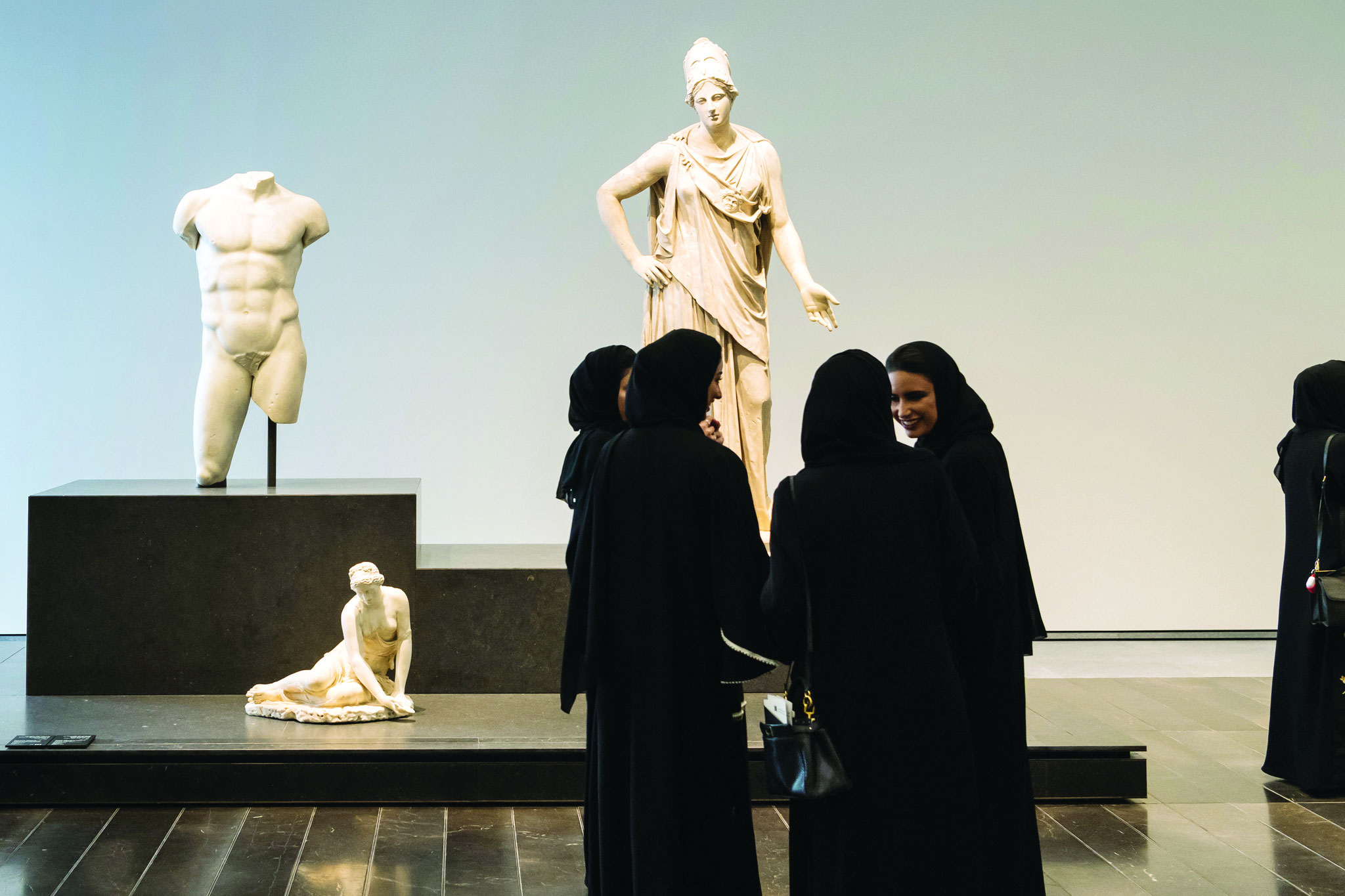 "Shanghai looks set to become the new cultural hub of the 21st century"
The Centre Pompidou × West Bund Museum Project that opened in Shanghai in November is the largest-ever cultural exchange between France and China. Designed by British architect David Chipperfield, the glittering glass-clad museum is the most imposing newcomer on the Huangpu River shore: no mean feat in this billion-dollar neighborhood. "Shanghai looks set to become the new cultural hub of the 21st century," says Serge Lasvignes, President of the Centre Pompidou. "Museums are being established and developed there at an astounding pace. It was only natural for the Pompidou to participate, both to show off its rich collections and share savoir-faire with our Chinese counterparts." For a reported sum of $2.9m annually, plus $1.5m for its branding rights, the Pompidou will loan works from its collections; create exclusive Shanghai exhibitions, and host exhibitions by Chinese artists at its Paris HQ. As well as providing revenue, "we hope [it] will encourage more Chinese tourists to come and visit our Parisian address," says Lasvignes of the contract, which will last for five years.
And the Pompidou isn't alone in China. In 2014, London's Victoria and Albert Museum began a five-year deal to develop Shenzhen's Design Society, a gallery and cultural hub which opened in 2017. And last June, London's Tate signed a memorandum of understanding to provide the Shanghai Pudong Museum of Art – set to open in 2021 – with three exhibitions and, crucially, management support and knowhow. It makes perfect sense. "Tate's best-ever-attended exhibition was held in Shanghai," said Kerstin Mogull, managing director of Tate, at the signing. The show in question, "Landscapes of the Mind: Masterpieces from Tate Britain (1700-1980)," attracted 615,000 visitors in 14 weeks – that's over 6,000 people per day. Needless to say, the Museum of Art will be housed handsomely. It's set to open in a building designed by French architect Jean Nouvel, who is also responsible for the Louvre Abu Dhabi and the National Museum of Qatar in Doha – a city that, with its IM Pei-designed Museum of Islamic Art, is also no slouch when it comes to cultural and architectural ambition.
All this expansion hasn't come without criticism. In 2006, when Abu Dhabi announced it would build its $27bn arts district in collaboration with the Louvre, Guggenheim and British Museum, critics scoffed: did this oil-rich emirate think it could simply buy cultural clout? Well, yes it did – and it worked. "I have been involved in the birth of many great cultural projects," says Jean-Luc Martinez, President-director of the Musée du Louvre, "and I can tell you, without either exaggeration or boast, that this one will leave a permanent mark on the history of museums."
Louvre Abu Dhabi, the first museum in the Saadiyat Cultural District, opened in 2017 after ten years of development. Nouvel's building is a work of art in itself, with a soaring dome made from almost 8,000 unique metal stars. When sunlight streams through, it creates a "rain of light," reminiscent of the overlapping palm trees in the emirate's oases. The collection includes artworks on loan from not only the Louvre, but 12 other leading French museums – including Vincent van Gogh's Self Portrait (courtesy of Musée d'Orsay) and Jacques-Louis David's Napoleon Crossing the Alps (from the Palace of Versailles). But the Louvre branding is undoubtedly the biggest draw: a privilege for which developer TCA Abu Dhabi reportedly paid $525m, as well as $747m for the loan of artworks and temporary exhibitions.
"That it took only ten years for [the Louvre] to emerge from Saadiyat Island is an extraordinary feat," says Martinez. "Ten years to build a museum of 100,000 square meters. Ten years to raise a dome whose weight is close to that of the Eiffel Tower. Ten years to perfect techniques to conserve the works in the climate of Abu Dhabi… It has been a tour de force!" Meanwhile, the British Museum provided an eight-year consultancy for Zayed National Museum, which is set to open in 2021.
Guggenheim Abu Dhabi, however, hasn't had such a snappy timeline. Over the past 14 years, construction has been delayed by economic and political wrangling – and the project looked, for a while, like a $200m Gehry-designed white elephant, with unfortunate echoes of all those other false starts by the museum brand which, after all, was the first to understand its potential for global expansions. But last year Richard Armstrong, director of the Guggenheim Museum and Foundation, told television network Euronews that the museum was "on track, on budget," and that construction would start "soon." Guggenheim Abu Dhabi is now expected to open in 2022 – so all eyes are on Abu Dhabi and that $200m deal.
Global recognition and a multi-million-dollar boost to coffers? It should come as no surprise that arts institutions are so keen to explore emerging markets. But there are intellectual and altruistic benefits too. The Shekou Design Museum in Shenzhen, for example, continues to host a range of workshops and outreach programs for children, students and families. Of course with its involvement, the V&A is establishing relationships not just with future creatives, but future collectors and donors, too
But at its best this cultural exchange – and museum diplomacy – can be transformative for both parties. Opening the Louvre Abu Dhabi "forced us to cast off our Eurocentric approach," says Martinez. Alongside the project, the French and Emirati governments founded the International Alliance for the Protection of Heritage in Conflict Areas (ALIPH), which works in partnership with UNESCO to conserve historic sites in war zones. At its launch, French benefactors had contributed $30m, while funds from the UAE and Saudi Arabia totaled $35m – with an additional $10m from other sources.
So where next for the world's big museum brands? Perhaps unsurprisingly, it's a topic rife with rumor. "There are ongoing discussions with the Czech Republic and South Korea," confirms a Pompidou spokesperson; but regarding whispers of a Saudi Arabia outpost, "there's no such thing planned." As for the Guggenheim, "I always say [the next museum will be] on Mars," laughed Armstrong in the Euronews interview. "But building the museum in Abu Dhabi, and making sure it's on the right path, will consume all of our energy over the next ten years." That's the rub with any creative process: sometimes you have to make a few drafts, tear them up, and start afresh. As those abandoned projects attest – whither the Guggenheim Helsinki, Rio and Lithuania? – even the best-laid plans don't always work. But if the stars – and visions, and budgets – align, it might just end in a masterpiece.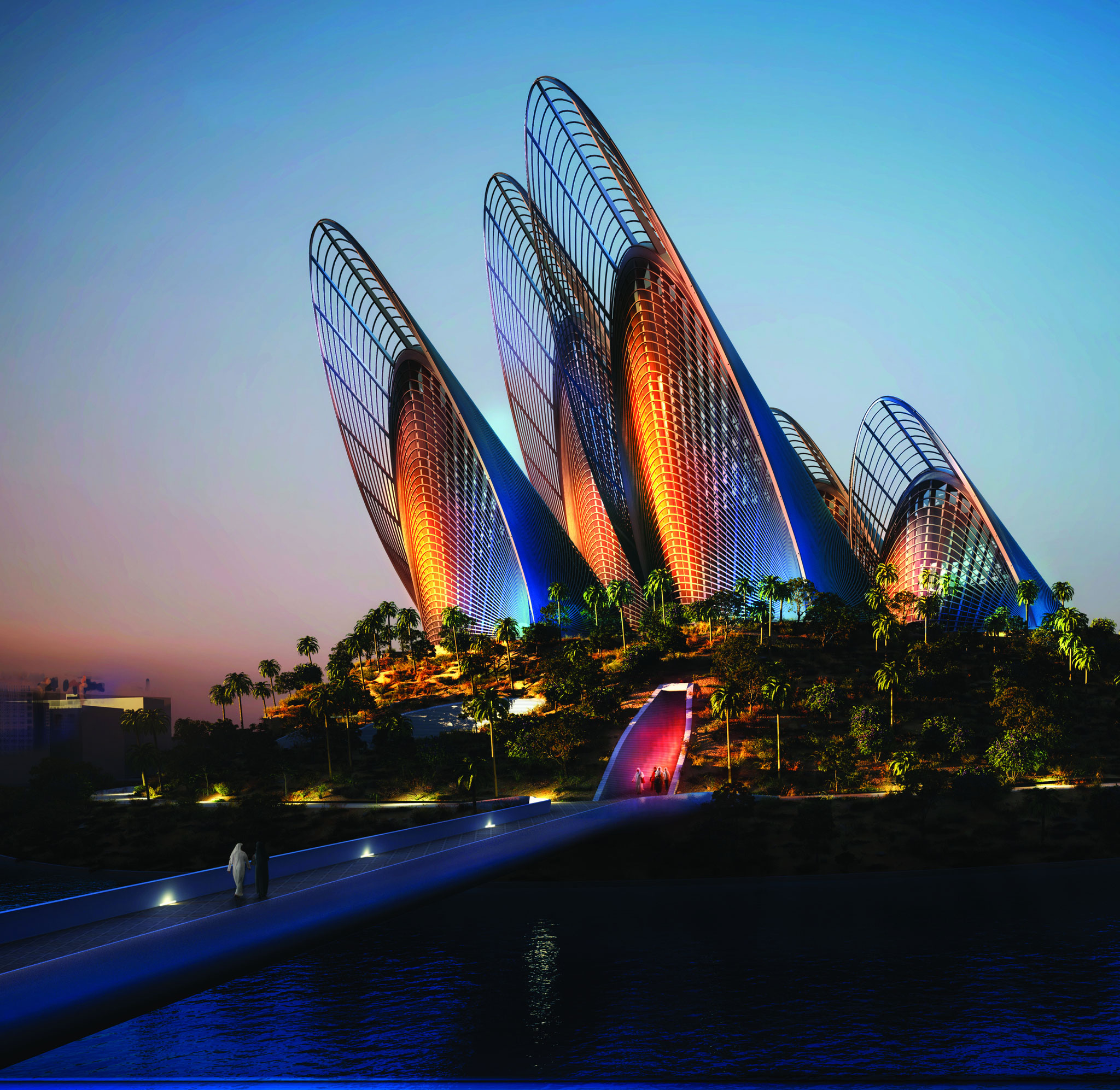 Foster & Partners
Previous pages: visitors to the Louvre Abu Dhabi Museum which opened in November 2017. Above, clockwise from top: the exterior of the Louvre Abu Dhabi, which was designed by Pritzker Prize-winning architect Jean Nouvel; sunset over the Centre Pompidou × West Bund Museum Project in Shanghai; Abu Dhabi's Zayed National Museum, due to open in 2021, which will benefit from curation consultancy by the British Museum, as well as the loan of about 500 of its treasures