Photography by JAKE CURTIS
Aristocratic former model Serena Bute designs chic but comfortable clothes "for women to be themselves in." We caught up with the designer staking her claim as the queen of laid-back luxury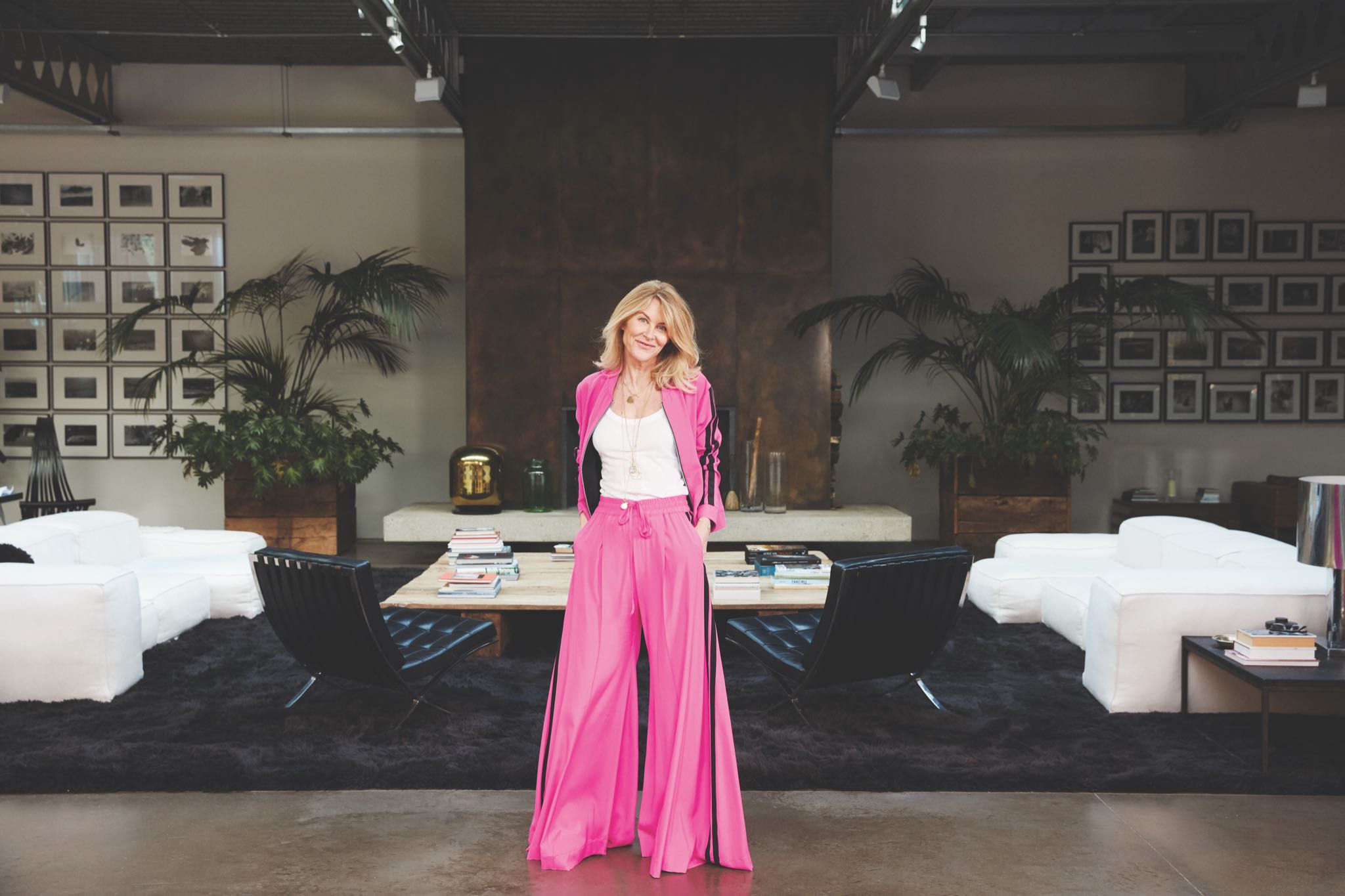 As women the world over work hard to alter the way they are perceived – as they rise up in the worlds of business, politics and the arts, to find their voices and their place in the world – so their wardrobes are changing. They're dressing like they mean business.
Enter Serena Bute London, the laid-back luxury brand that's a favorite of models Adwoa Aboah and Kate Moss and actress and activist Emma Watson, to name but an on-message few. Built around the dual principles of elegance and comfort, Bute's capsule collections comprise a covetable wardrobe of sophisticated staples – flattering, wide-legged pants (always with a trademark grosgrain stripe down the side or at the waistband), oversized tailored shirts (silks and velvets for winter, softest cottons for summer) and flattering suit blazers, turtlenecks and hoodies to complete any look. The styles may be relaxed, but the fabrics and finish are of the highest quality. This is a new era of luxury dressing.
"I want to give women the gift of feeling at ease and comfortable," says Bute, a stylish face on the UK fashion scene since she took a job working as a buyer at the seminal brand Joseph in the mid-1980s. A busy mother of three (and stepmother to three more), this fresh-faced fiftysomething English rose instinctively knows exactly what busy, modern women want. "Life is quite stressful enough without having to strap yourself into tight clothes and towering heels," she says. "I design clothes for women to be themselves in; to feel relaxed, without compromising on their femininity."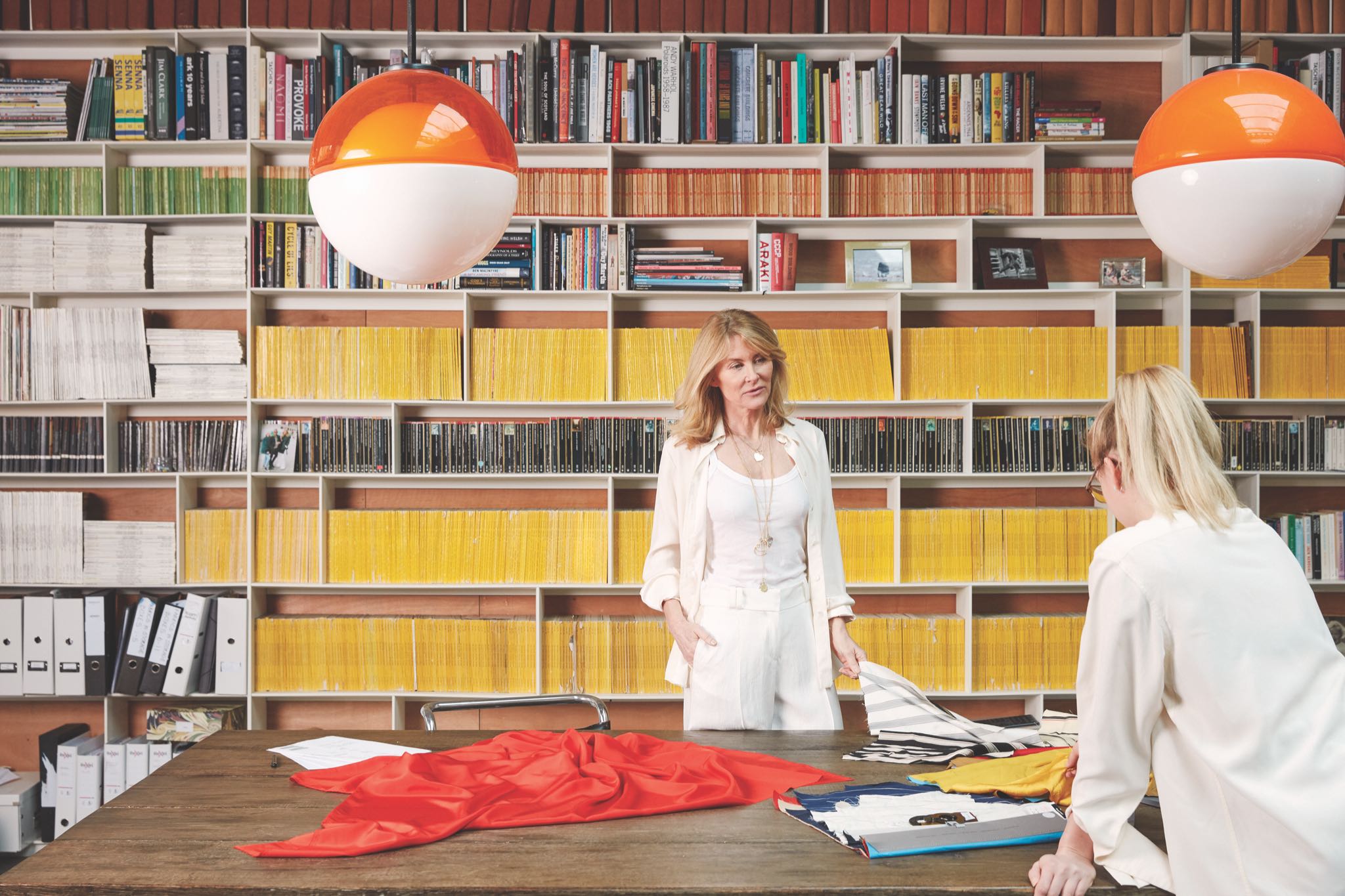 "I love the way the kids wear my designs… they tend to pair them with some cool trainers and a lot of sexy attitude!"
Having only just wound up her previous label, Anonymous, which had attracted a cult following in the 2000s, Bute originally had no intention of selling the versatile designs that she had started creating: "I simply made them for myself." But everywhere she went, from the stylish enclaves of London to New York City, women would stop her and ask where they could get them. And so, in 2015, a label was born.
Despite being entirely untrained, Bute, an aristocratic former model, has worked in fashion for over 30 years. Her first venture, a fashionable shirt business called Wendell & Howes, was disbanded when she married the Jamaican-born grandee Robert De Lisser, and went to live on the Caribbean island (where their children, Jazzy and Joshua, were born and where she set up a business making kids' clothes). When the marriage crumbled after ten years, she found herself back in the UK, beginning life again as a single mother at 40.
At an exhibition of Cuban paintings put on to raise some much-needed funds, she was reunited with an old childhood friend, the former F1 racing driver Johnny Dumfries, Marquess of Bute. A friendship, and subsequently a relationship, blossomed and, on the day before Valentine's Day in 1999, the pair were married in the Marble Chapel at Mount Stuart, his Gothic family seat on the Scottish island of Bute.
Moving between their homes in Scotland, London (where their extraordinarily stylish home is the former Monty Python studios located on the edge of Regent's Park) and Verbier in Switzerland, Bute's high-octane life necessitates a flexible wardrobe. "When I start my day, I want to be able to chuck on and go," she says. "I design clothes that can be worn to bed, to a yoga class or out to dinner with a tuxedo or leather jacket." In many ways, she is the living embodiment of her brand: a day-to-night doyenne of fashionable cool.
But it's not just herself that Bute is designing for; her children and their friends have snapped up the look and made it very much their own. "I love the way the kids wear my designs," she says of her daughters, 28-year-old actress, Jazzy, and 20-year-old fashion student, Lola. "For the most part, they dress them down; whereas my friends would often wear my trousers with a heel to a party, they tend to pair them with some cool trainers and a lot of sexy attitude!" In fact, one of the best-selling dresses in Bute's latest collection was designed with these bright young things in mind; a glittering, sequin minidress, destined for the dance floor.
With her children all grown up, Bute is showing no signs of letting up. What started out as a bijou business is now growing into a global phenomenon – look out for her vibrant fluorescent and pretty pastel color palette at all the most stylish beach bars next summer. As well as being stocked in boutiques across Europe, Japan and America, online orders flood in from every country around the globe. "More and more, I sense a customer base that craves stylish, comfortable, stress-free dressing – a way of looking great and getting things done," says Bute, whose next mission is to make the label entirely sustainable. "My buzzword, and the buzzword of the future, is adaptability," she says. "I'm in the business of creating clothes that move with the times, as well as with our bodies; clothes for the modern woman, in all her elegant, powerful, versatile glory."